Let's talk wellness... ...you, me, TODOS.
Flexbility 101 for men
The most overlooked concept in an exercise workout for men is an important one, flexibility. Building muscle is necessary for shape and definition and stretching supplements that action. Other than the relieving tense muscles, stretching helps in increasing range of motion and stability. Incoporate daily strecthing and you will feel and see the difference. Click for stretching exercises. +February 2012
Flexibility 101 for women
It's the details that make a difference in the shape of one's body. From details of diet to details of stretching, anything can make a difference in striving for positive change. Flexibility in a workout program procudes great results because stretching actually helps give muscle shape. To find a 101 workout on stretching for women's health, click on the picture to the right. +February 2012
Be Coo Coo for Coconuts

Nike+ FuelBand is always on
Start simple and add delicious taste

5 exercises to implement into your workout
Learn your plate, learn its weight

An extremely practical kitchen appliance

One rinse, two times the taste

Protect yours eyes, look good doing it
Simplify your soap dispenser
With yogurt, it turns out plain and simple is the best

A fun & healthy grocery shopping experience
Trader Joe's is not your ordinary grocery store. They are a grocer that carries unique and sometimes quirky items that you simply cannot find anywhere else. They regularly come out with new exciting items to keep things interesting every time you walk in. In addition Trader Joe's also carries a variety of organic products. You cannot buy everything you need at Trader Joe's but you can surely enjoy from a great selection of quality foods from all over the globe. The place just has a certain charm about it that everyone raves about, from it's small size to it's cheerful employees. Trader Joe's is a great place to buy groceries at competitive prices and for a healthy lifestyle (click on the picture above for the store locations). +November 2011
Protect your hands, lift better
These are the Nike Structured Training Gloves, they feature a secure wrist strap for a proper fit. They feature various engineered Dri-fit fabrics for fit, durability, and performance with quality stitching patterns. Take it to the next level with your workouts with these exceptionally engineered training gloves by Nike (click below to buy at Dick's). +November 2011
A pull-up a day goes a long way

Develop a strong back with the most convenient pull-up bar out there. It's called the Iron Gym Xtreme by Pro Fit. From wide pullups to work your lateral muscles to tight pulls to work your biceps, the Iron Gym is a way to develop your upper body every time you step into your room. The bar can also be placed on the floor to do wide pushups for your chest, dips for triceps, and against the door for abs. A great investment for yourself and your body. (Click on the picture for a link to buy the Iron Gym from Target.com). +October 2011
Now make the best tasting shakes ever
Either it be a chocolate milk or a flavored protein shake, now you can enjoy the most delicious shakes ever. For some, it might be after a workout as a well deserved reward for the time put in at the gym. For others, it might be as a mid-day snack of chocolate or any flavor with milk or even a cold Nescafe coffee. With this stirring appliance, you can make shakes and iced instant coffees the way they are meant to taste. This is the Hamilton Beach Drinkmaster. It comes in a stylish chrome finish and is simple to clean and store (click below for more info at hamiltonbeach.com). +October 2011
Powered by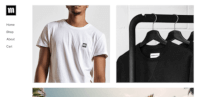 Create your own unique website with customizable templates.