Let's Talk Wellness... ...You, Me, TODOS.
---
Start simple and add delicious taste

A philosophy to keep in mind when preparing your food is that the more ingredients or number of steps you need to prepare your meal, the fresher the food will be and the better it will taste. Try this philosophy with your morning bowl of cereal. Forget the over-priced Special K or the mundane Raisin Bran. Start simple with unsweetened, unflavored Corn Flakes and add fruit, sugar, and spices as desired. A favorite of ours is original Corn Flakes, banana, and cinnamon. Maybe yours is raisins and almonds. Experiment and find your favorite! (Click below for nutritional facts) +January 2012

---
5 exercises to implement into your workout
---
Learn your plate, learn its weight

Imagine a place where you can find out how many calories are in your plate, how beneficial the calories will be if you put them to work with exercise, and how long you should plan to meet your health goals. The place is called SuperTracker. An initiative fronted by the United States Department of Agriculture to help people understand their food, their fitness, and their health. Click below for the SuperTracker website and get started on that healthy knowledge and action this year. +January 2012 (contributed by IV)

---
An extremely practical kitchen appliance

You want to toast bread before dinner? Melt cheese on the bread? Or want to broil only a small piece of chicken? It is extremely convenient to have a multi-purpose toaster oven that can quickly start-up and provide a lot of options. Don't underestimate the taste of sandwiches, with toasted bread, grilled vegetables, or warm food in general. The Hamilton Beach 22708 Toastation product can be found at Amazon.com by clicking below. +January 2012
---
One rinse, two times the taste

Good ingredients are vital for any delicious meal. The better the ingredients, the cleaner they are, the better they will taste. Nevermind what is written on salad packaging. When it comes to preparing your food, it is not wise to skip steps. Take for example this salad spinner. It will help you rinse vegetables quickly and efficiently. Its worth the investment, its worth the cleanliness and taste. Check out this selection at Bed, Bath, and Beyond (click below). +January 2012

---
Protect yours eyes, look good doing it
Protecting your eyes from UV light has never been as necessary as it is today. Now just because you're protecting your eyes doesn't mean you should have to compromise style. Sunglasses should be compliment to your look and are to be worn on sunny days, don't be the person sporting them at night or indoors, it's just silly. It is good to have a few pairs of sunglasses. Take a look at these from Voi Jeans. They come with a case meaning they are a solid pair of shades and you'll look good wearing them. Click the picture below to buy from ASOS for yourself or for someone you care about this season. +December 2011
---
Simplify your soap dispenser
Washing your hands is important to good health and aesthetics make a noticeable difference. Then what better way to wash your hands than with this touch-free soap dispenser by Simplehuman. You simply put your hand below the dispenser it senses and automatically pours the perfect amount of soap. It's like a blast from the future. It features a contemporary simplistic design with chrome accents and shiny finishes. Makes for a great gift or unique addition to your home. Click below to take a look at it and it is available at Bed, Bath & Beyond. +December 2011


---
With yogurt, it turns out plain and simple is the best

The Mediterranean cuisine is considered some of the most delicious and healthy of all because the simplicity of the recipes exemplifies the quality of the ingredients. FAGE yogurt is exactly that. This strained yogurt, which originates from Greece, tastes so good that it is now available in many specialty and natural food stores across Europe and the US. FAGE yogurt comes in various types of fat content, with 0%, 2%, or Total. Combine FAGE with honey to make a healthy, refreshing desert or with lemon to make a yogurt dressing. Try it today. No regrets. Just deliciousness. (Click below for FAGE recipes and find where to buy). +December 2011

---
A fun & healthy grocery shopping experience
Trader Joe's is not your ordinary grocery store. They are a grocer that carries unique and sometimes quirky items that you simply cannot find anywhere else. They regularly come out with new exciting items to keep things interesting every time you walk in. In addition Trader Joe's also carries a variety of organic products. You cannot buy everything you need at Trader Joe's but you can surely enjoy from a great selection of quality foods from all over the globe. The place just has a certain charm about it that everyone raves about, from it's small size to it's cheerful employees. Trader Joe's is a great place to buy groceries at competitive prices and for a healthy lifestyle (click on the picture above for the store locations). +November 2011
---
Protect your hands, lift better
These are the Nike Structured Training Gloves, they feature a secure wrist strap for a proper fit. They feature various engineered Dri-fit fabrics for fit, durability, and performance with quality stitching patterns. Take it to the next level with your workouts with these exceptionally engineered training gloves by Nike (click below to buy at Dick's). +November 2011
---
A pull-up a day goes a long way

Develop a strong back with the most convenient pull-up bar out there. It's called the Iron Gym Xtreme by Pro Fit. From wide pullups to work your lateral muscles to tight pulls to work your biceps, the Iron Gym is a way to develop your upper body every time you step into your room. The bar can also be placed on the floor to do wide pushups for your chest, dips for triceps, and against the door for abs. A great investment for yourself and your body. (Click on the picture for a link to buy the Iron Gym from Target.com). +October 2011
---
Now make the best tasting shakes ever
Now you can enjoy delicious protein shakes after your workout as a well deserved reward for the time put in at the gym. We all know protein shakes are great. Now with this stirring appliance, you can make wholesome protein shakes the way they are meant to taste. This is the Hamilton Beach Drinkmaster. It comes in a stylish chrome finish and is simple to clean and store (click below for more info at hamiltonbeach.com). +October 2011
---
---
Powered by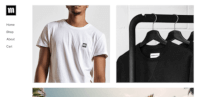 Create your own unique website with customizable templates.