Let's talk food... ...you, me, TODOS.
---
Upgrade your coffee: the French Press
Is coffee part of your lifestyle? We all love to go to Cafes for a cup of gourmet coffee, but how about at home? Making a great cup of coffee is truly is craft, but surprisingly it's rather easy, as any great barista you need the right tools and ingredients. Of course freshly grounded coffee makes a difference, it's a good start in the right direction, you can freshly ground you coffee at Trader Joes or other markets. More importantly to make a great coffee you need one of these (down below). It's called a French Press and it makes a truly exquisite cup of coffee every time. How does it work? Well it's rather simple, the process involves taking your grounds adding hot water, letting it rest for 4 minutes and then press the down on the plunger. Sure it's a little more work than the conventional drip coffee maker but the results are profound. Now you can enjoy a great cup of coffee at home every morning and also maybe even more importantly when you have company over you can offer up gourmet coffee that makes a lasting impression made off a French Press. Click below to watch "How to Use a French Press" and click on the bottom right to get your French Press Coffee Maker made by the best, Bodum. Not only does it make a blow away cup of coffee but it will add a sense sophistication and elegance to your counter top. +March 2012

Powered by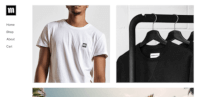 Create your own unique website with customizable templates.