Let's talk attire... ...you, me, TODOS.
---
Tie yourself knit!
When I came across Mr Porter, a new site you should check out for men that features divine taste in fashion. The brand Paul Smith & Accessory stood out for their new 2012 collection . This grey knitted ribbed silk tie adds great texture in comparison to the boring work tie. This tie has two types of knit that amplifies the effect. To highlight the tie wear contrasting colors , like a classic white shirt and navy suit. Five things to know: 1.
Grey knitted silk tie
2. Ribbed contrasting textures 3. 100% silk 4. Dry clean 5. Made in Italy. Click on it below to add to your style. +Esperanza Cid for TODOLifestyle +March 2012
---
Powered by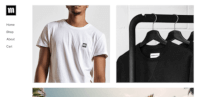 Create your own unique website with customizable templates.