Let's talk food... ...you, me, TODOS.
---
The taste of Peru & great taste of Ceviche
Peruvian cuisine is a unique, individual fusion of cooking techniques from around the world using local Peruvian ingredients. Peruvian cuisine influenced by immigration from Spain, Italy, China, West Africa and Japan, ranges from excellent sushi and simple 'Pollo a la Brasa' (roasted garlic chicken and chips) to 'Cuy Chactado' (fried guinea pig) and delicious 'Lomo Saltado' (Peruvian beef dish).

Peru is a country that holds not just a variety of ethnic mixes since times ranging from the Inca Empire, the Viceroyalty and the Republic, but also a climatic variety of 28 individual climates. The mixing of cultures and the variety of climates differ from city to city so geography, climate, culture and ethnic mix determine the variety of local cuisine.

The three traditional staples of Peruvian cuisine are corn, potatoes, and ajies (chili), there are over 8000 species of potato that are native to the Andes region of Peru.

Personally my favourite Peruvian dish is Ceviche, a raw seafood dish served along the coast. The dish is typically made from fresh raw fish marinated in citrus juices such as lemon or lime and spiced with chili peppers. Additional seasonings such as raw red onion, salt, coriander/cilantro, and pepper may also be added. Ceviche is usually accompanied by side dishes that complement its flavours such as sweet potato, lettuce, corn, or avocado.
Recipe Ingredients 1 1/2 pounds of bass, diced 1/2 small red onion, halved and slivered 3/4 cup lime juice 1/2 teaspoon salt 1 habanero chile, seeded, halved, and thinly sliced (optional) 1 tablespoon ají amarillo sauce (optional) 1/2 cup cilantro leaves, chopped 1 sweet potato, boiled, peeled, and sliced 1 cob sweet corn, boiled and cut into 4 pieces 4 lettuce leaves Preparation 1. Rinse diced fish and slivered red onion in cold water and dry thoroughly. 2. In a large bowl, combine fish, red onion, lime juice, salt, habanero (if using), and ají amarillo sauce (if using). Cover and refrigerate 20 minutes. 3. Just before serving, stir in cilantro. Divide between 4 bowls and serve with sweet potato, corn, and lettuce leaves on the side. Peruvian Pantry: Ají amarillo. A yellow chile with a slightly sweet flavor and plenty of heat. Note: Ceviche is a national dish of Peru. Originally created by fishermen as a way to eat part of their catch during long days at sea, ceviche uses the acid in lime juice to "cook" the fish. Online Recipe Resources:
http://www.myrecipes.com/recipe/peruvian-ceviche-10000001194615/
http://www.theperuguide.com/gastronomy/peruvian_cuisine_recipes/ceviche.html
(Post contributed by Peter Richards, a Welsh expatriate currently residing in Lima, Peru. Even though he has just recently moved over, Peter has relished living in the South American country by taking on the local culture and cuisine)
+May 2012
---
Powered by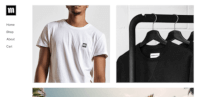 Create your own unique website with customizable templates.