Let's talk technology... ...you, me, TODOS.
How do you become the most desirable, most sustainable sport lifestyle company in the world? You lead with innovative change in the most fundamental aspects of the company: design & sustainability. Combine these two, and you have the 'Clever Little Bag' by Puma & Fuseproject. Puma and Yves Béhar, designer and founder of Fuseproject, collaborated over a 21 month period of time to develop 'a game changing packaging system that would greatly reduce Puma's footprint and build on their initiatives toward cleaner, greener, and safer practices contributing to a better world.' Forget the standard cardboard shoebox, the laminated printing, the tissue paper. Design for less shipping weight and space that gets rid of the plastic retail bag. The 'Clever Little Bag' is made of non-woven polyester consisting of polypropylene, which is eventually recyclable. Its cardboard structure is die cut from one flat piece of material with four walls that taper in to allow for secured, more efficient stacking. The tens of millions of shoes shipped in the 'Clever Little Bag' reduces water, energy and diesel consumption on the manufacturing level alone by more than 60% per year. Essentially, Puma and Fuseproject offer a packaging system with less material yet even better looking, and a shipping and distribution system that is even more sustainable. It is inspiring projects like these that require multi-faceted innovation that need to continue taking forth for a better world around us. It's time to learn from others, think outside the box, and commit ourselves to positive change. +JG:PG for TODOSLifestyle +May 2012
The alternative to iPhone & Android: Nokia Lumia 900
A visual of how glass will be merged with technology in the future
Introducing you to next version of Windows
Amazing Hardware, Amazing OS
No SOPA for me!
Where a television meets design
Samsung makes some of the best flat-panel displays in the world. This Samsung LED, shown below, is the closest thing there is to a high end designer television set. What's striking is what's most minimal, the stunning ultra thin bezel. It features a premium chrome finish and its stand is also design forward. If you're looking for a television to dazzle as a design piece, look no further. (Click to below to see at Best Buy) +January 2012
A personal trainer for women by NIKE
If you are an iOS user, you are in luck right now. Nike Women has developed an amazing app called NTC, featuring workouts with actress Lea Michelle & Nike atheletes Li Na and Hope Solo. Whether you are looking to build muscle or get leaner this app has it all to compliment your fitness program. Click on the image below to see how it works and take your workout to the next level. +January 2012
Enjoy music with good sound in every room

A noisy newcomer to the tablet market
Stylish, affordable, reasonable sound, on the go
These Sony Over-The-Ear Headphones are light weight, comfortable, and stylish. They're great for listening to your favorite music on the go and for traveling in style. (By Sony available at Best Buy, click on the picture below). +November 2011
Track your progress
Now you can see your favorite websites in a beautiful mosaic
Pulse is a smartphone application available for iOS (iPhone & iPad), Android, and now Windows Phone Mango. It beautiful integrates your favorite news sites in a structured mosaic slide-show where you can simply click in and out of articles. It is free and available in the app stores for the platforms mentioned above. Now enjoy you can enjoy all the news amazingly organized in a single application (click on the picture below for more info). +November 2011
Siri, iPhone's new personal assistant
A great OS you've never heard of
It looks good, it must sound good
Upgrade to great sound in your pad with this 2.1 system called the Sound Sticks by Harmon Kardon. They not only look aesthetically pleasing but also sound amazingly crisp. Listen to your favorite music with great fidelity in a design so stylish that would look great in any room (available at apple.com by clicking below). +October 2011
Now conveniently text anywhere
Update to the newest version iOS 5
Powered by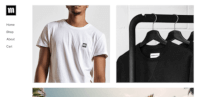 Create your own unique website with customizable templates.