+technology in winter 2013... ...you, me, TODOS.
---
---

Rim has announced details on their upcoming Blackberry 10 platform, the operating system intended to catch up with iOS, Android, and Windows Phone 7. BB10 brings slick new gestures, a new swipe keyboard, and a handy new camera app. What we first noticed here is that the BB device displayed does not have a physical keyboard, RIM is hoping to make up for it with their version of the swipe keyboard. The new swipe keyboard will use gestures to input characters such as swiping up to change the layout, swiping backwards to delete a word, it's not innovative but it looks to be intuitive . Blackberry also announced that BB10 devices will support full multitasking with applications running in the background and 720p HD screens. Last but not least the new camera app. Blackberry has developed great software enabling the camera to take multiple shoots before you actually press the shutter button thus giving you the option to swipe back in time to an earlier shoot of the photo. Interesting developments coming from RIM. Will this be enough to save RIM? That is to be determined. +JG:PG for TODOSLifestyle

---

How do you become the most desirable, most sustainable sport lifestyle company in the world? You lead with innovative change in the most fundamental aspects of the company: design & sustainability. Combine these two, and you have the 'Clever Little Bag' by Puma & Fuseproject. Puma and Yves Béhar, designer and founder of Fuseproject, collaborated over a 21 month period of time to develop 'a game changing packaging system that would greatly reduce Puma's footprint and build on their initiatives toward cleaner, greener, and safer practices contributing to a better world.' Forget the standard cardboard shoebox, the laminated printing, the tissue paper. Design for less shipping weight and space that gets rid of the plastic retail bag. The 'Clever Little Bag' is made of non-woven polyester consisting of polypropylene, which is eventually recyclable. Its cardboard structure is die cut from one flat piece of material with four walls that taper in to allow for secured, more efficient stacking. The tens of millions of shoes shipped in the 'Clever Little Bag' reduces water, energy and diesel consumption on the manufacturing level alone by more than 60% per year. Essentially, Puma and Fuseproject offer a packaging system with less material yet even better looking, and a shipping and distribution system that is even more sustainable. It is inspiring projects like these that require multi-faceted innovation that need to continue taking forth for a better world around us. It's time to learn from others, think outside the box, and commit ourselves to positive change. +JG:PG for TODOSLifestyle


---
Powered by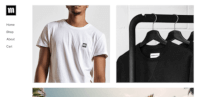 Create your own unique website with customizable templates.