Let's talk wellness... ...you, me, TODOS.
---
Start simple and add delicious taste

A philosophy to keep in mind when preparing your food is that the more ingredients or number of steps you need to prepare your meal, the fresher the food will be and the better it will taste. Try this philosophy with your morning bowl of cereal. Forget the over-priced Special K or the mundane Raisin Bran. Start simple with unsweetened, unflavored Corn Flakes and add fruit, sugar, and spices as desired. A favorite of ours is original Corn Flakes, banana, and cinnamon. Maybe yours is raisins and almonds. Experiment and find your favorite! (Click below for nutritional facts) +January 2012


Powered by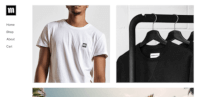 Create your own unique website with customizable templates.