+sport in winter 2013... ...you, me, TODOS.
---
The unique in-depth football statistics app


Want to be up to date with football stats? Need to make the incisive decision on weekly transfers for your fantasy team? Need to be an all round 'know-it-all; of football? Then why not try out this new app brought to you by Four Four Two and powered by OPTA. The app provides in depth analysis of all Champions League and Premier League games, including all basic stats such as passes and shots, to more astonishing info like player vs player comparisons and breakdown of key incidents that influenced games. The app is available for iOS 4.0 and later. Check out the link to the the Apple store. +Alex Kosmas

---

Wear the jacket and resemble Ibra


_

He is feared. He is loved. Ibrahimovic is one of those stand-out characters in football. With a large structure and a devilish eye for goal, Ibrahimovic has made fans in Holland, Spain, and Italy forget about seat numbers countless times with his magnificent, destructive goals. Now NIKE Sportswear has come out with the bomber jacket that presents these same qualities. Named 'Crafted for Destruction,' the black, fitted jacket has Ibrahimovic's tattoos sown on the back and a maroon collar to top it off. Check out the impressive video below.

---
Inspirational words from a diverse collection of footballers


BBC Sport has begun a short documentary show (roughly 20 mins) called World Football Focus which visits football news from around the world and asks footballers for their take on football's influence today. This week's presentation includes Ivory Coast Didier Drogba

's experience at the African NAtion's Cup and his efforts in the community, USA goalkeeper Brad Friedel and his take on the playing in the Premier League at the age of 40, Djibril Cisse's return to the Premier League, and Gary McCalister on the Scottish league.

(Click on BCC below for this week's episode).

---
The sport of fitness has arrived

Crossfit. If you already do it, then I know you just got the same goosebumps as I did. If you never did sports in life or felt unevenly coordinated, Crossfit is your second chance. For you athletes out there, we all know how to challenge our body, we love the adrenaline rush, we need our teammates, we thrive for competition. Nowadays we can't afford anymore time to be on a team; only spare a hour at the gym. Now it's time to make a change in your life. Crossfit has a range of exercises that pushes your body past it's limits. Anyone can join at any level of fitness. It boost endurance, builds immense strength and gets you in the best athletic shape ever. Crossfit recently joined with Reebok and is now grown to be internationally popular. To find out more about Crossfit or find a gym near you, visit www.crossfit.com. Careful, its addictive, in a good way.


---
Powered by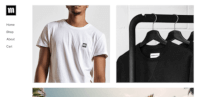 Create your own unique website with customizable templates.