Let's talk attire... ...you, me, TODOS.
---
Simple yet different
We love T-shirts but the problem with T-shirts is, everyone wears them! T-shirts use to be these boxy cut plain colored pieces of fabric with a "square cut" manufactured for mass production. Well truth be told the body is not shaped like a square. Many years ago European designers figured this out and started coming out with fitted form fitting T-shirts and thanks to their direction there are more and more out there today. They were still plain but at least they fit well. Now fashion's change agent are stripes and unique collars that stand out. In come v-necks, rounder deeper necks that accentuate more of the form of the body. Take for example these bellow. Exhibit one, the red striped v-neck shirt. The red and white stripes stand out and the blue collar adds a character to it. Character is a good thing. Exhibit two, in front it features a simple white front and a subtle pocket with stripes and a wider neck. The back reveals a bold stripe pattern, we love it and the colors are quite tasteful, it just works. T-shirts are great because you keep it simple, well now you can be different. Do both: keep it simple and be different. +JG:PG for TODOSLifestyle. +July 2012

---
Powered by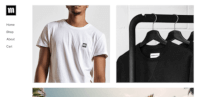 Create your own unique website with customizable templates.