Let's talk attire... ...you, me, TODOS.
---
Simple yet colorful
How many things do you own that you can call simple yet colorful? Hearing that reminds me of shiny new iPod, well you can continue this trend into your accessories with a backpack like this by Asos. Not only do we use backpacks but we usually don't put much thought into the design. With school coming up this backpack says you put thought into your shopping habits and it says your a stylish individual, of course! And if you have already finished school, this still works for back packing your gym clothes to and from the gym! And the best part is there are there appealing colors that you can choose to suit your own look. Start upgrading your accessories with this two tone back pack! Click on the back pack of your choice and the best part is...free shipping from the great folks at Asos. There now there's nothing stopping you from upgrading to simple yet colorful. +JG:PG for TODOSLifestyle. +July 2012

---
Powered by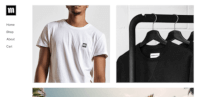 Create your own unique website with customizable templates.