Let's talk wellness... ...you, me, TODOS.
---
One rinse, two times the taste

Good ingredients are vital for any delicious meal. The better the ingredients, the cleaner they are, the better they will taste. Nevermind what is written on salad packaging. When it comes to preparing your food, it is not wise to skip steps. Take for example this salad spinner. It will help you rinse vegetables quickly and efficiently. Its worth the investment, its worth the cleanliness and taste. Check out this selection at Bed, Bath, and Beyond (click below). +January 2012

Powered by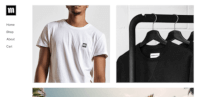 Create your own unique website with customizable templates.