Let's talk wellness... ...you, me, TODOS.
---
Nike+ FuelBand is always on
The Nike+ FuelBand is a fancy watch with an accelerometer built in. You simply set a goal of calories burn and the FuelBand tracks your progress lighting up from red to green. When you hit green you've hit your goal for the day. You can keep track of calories burned to even steps taken. Below is an short film featuring Nike Athletes Hope Solo, Paul Rodriguez and Ndamukong Suh as they track their daily activities. +February 2012

Powered by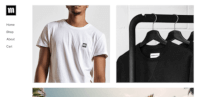 Create your own unique website with customizable templates.