+music in winter 2013... ...you, me, TODOS.
---
Discover New Music, Keep The Party 'Crackin'

Frat Beats is a music player that plays new hit music along with a diverse mix of playlists from a Techno Mix to even a Homework Mix. We feel there is a mix for everyone out there. Now you're always a click away from a convenient selection of playlists. Click on the picture below to listen in. (contributed by CV)

---

Acoustically revisit a memorable dance song


We present you the acoustic remake of the classic dance hit Lady by Modjo. The French music duo, Modjo, hit the most popular chart positions for Lady (Hear Me Tonight) with its memorable chorus and beat. Today's acoustic version is light, crisp, and full of instrumental sounds that are topped off by elegant vocals. Revisit the catchy song, remember where it was played, and enjoy this timeless melody. +JG:PG for TODOSLifestyle



---

A handcrafted internet radio


8 Tracks is an internet radio service that is unique because people share their themed playlists of 8 tracks or more. You can listen to and share your favorite themed playlists. There are so many options, genres, and possibilities. Find yours at

8tracks.com

, download the app on the App Store or Android Market. (Click on the picture below)

---
Powered by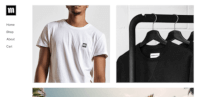 Create your own unique website with customizable templates.