Let's talk culture... ...you, me, TODOS.
---
Mad Men, a show for everyone

_
Mad Men shows us why we're all human. Why we sometimes like debauchery, sex. and risk rather than restraint, caution, and better judgement. Most importantly it does this with style. Class just oozes out from the show's script, personalities, and directing. There is something here for everyone; for the girls it shows how your predecessors struggled with the prejudice against women everywhere they turned in the 1960's. For the men this show is a tutorial on how to dress, carry yourself around women, and how to be successful. The fifth season is about to start so if you haven't seen the first four catch up before March 25th, and watch a four time consecutive winner for Best Series take you through 1960's New York. Click on the image on right to buy season 1. +David Torres for TODOSLifestyle +March 2012
---
Powered by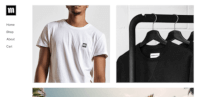 Create your own unique website with customizable templates.