Let's talk insight... ...you, me, TODOS.
---
From mind to body to soul, how your character develops throughout life is a function of passion and commitment. The more time you spend doing one particular task or hobby, the better you become at it. This is because we humans learn very well from experience. Experience augments our instincts. Experience enhances our mental capacity. Experience teaches us the patterns of life. With experience, we have the power to envision, which is the first step to success. Hand in hand with passion and commitment comes the aspect of multi-dimensionality. The more committed and multi-dimensional you are, the more worldly topics you can acknowledge, apprehend, and even implement. A multi-dimensional philosophy and lifestyle enables you to connect with as many, different people as types of lifestyle. Essentially, the more you know about the world and its inhabitants, the more possible it is to develop a character bound for success. +JG:PG for TODOSLifestyle +November 2012
---
Have some spare time and miss taking classes?
Coursera
offers free top tier education from the comfort of your own home.
Launched only in April 2012, Coursera is a revolutionary education start-up that currently offers 200 courses from 33 top-tier universities including Stanford, Princeton, Columbia, UPenn, UMich and UCs. When you take a Coursera class, you will watch lectures taught by world-class professors online and join a community of students who are taking the class alongside you. Classes are interactive, homework is given, deadlines are provided, discussion rooms are available to discuss course topics with your peers, and finally, if you take the optional final assessment and receive a passing score, you will be awarded a certificate signed by the instructor that states the successful completion of the course.
This is a great way for recent graduates to continue broadening their skill set while working full time.
+
Mitra Jamshidian for TODOSLifestyle +October 2012. Also seen on
UCD Our Future
.
---
Euro 2012 is around the corner, June 8th precisely. Host nation Poland will open up against Greece and a month long of football euphoria will follow. What's fascinating about football is the sport itself can be considered a lifestyle. It's a game simple enough for an open space yet great enough for the stars, followed by billions, and mastered by few. The game is a celebration of pride, heroes, and of course goals, there's no more climatic moment in sports. Since Euro 2008 Nike has created short films that capture different aspects of football's magic, all three films are unique in their own way. They feature some of the best players in the world. More importantly Nike manages to capture the great energy and the great multi-facted perspective of football. The first film was dubbed as "Take It To The Next Level" where you get to see in first person the rise of a football player at European giant Arsenal FC. It features scenes from Manchester United's Old Trafford Stadium, the Emirates, and the Camp Nou in Barcelona with appearances from Wayne Rooney, Cristiano Ronaldo, Ronaldinho, and others.


This second Nike film was released two years later for the 2010 World Cup in South Africa and it was called "Write The Future". This one explored the possible futures of footballers depending on their performance at the World Cup. Footballers are often under big pressure to perform at a high level in big matches and demonstrate that they are worth their often times expensive transfer fees. Fans often shout out "Stand up be counted" when their team needs a result, the players must show what their capable of and become legends or failures. In Spain there is an expression when translated goes like this "Finals are not to played, they are to be won". In this film you get a dramatic Hollywood style perspective of what adversity top players in the world play through. There's also appearances from Kobe Bryant, Roger Federer and Homer Simpson!


"My Time Is Now" is the third and latest film for Euro 2012. This one is about the next wave of players stepping up to become tomorrow's top players in the world. What makes this film special is actually hidden within "the Tunnels". You must go into the Nike Football Youtube Page and there you will find the interactive version of this film. What you will find are links within the film to discover different perspectives of football, from a Pep Guardiola tour of La Mesia (Barcelona's youth academy) to a Cristiano Ronaldo workout to a look into the Nike Barber Shop. It's an interesting way of watching this film as you click through the tunnels, Nike has also included a "Tunnel" for their sustainability program and more. These short films are brief but they show the many aspects of the beautiful game. In other words, it takes a huge budget from Nike to produce these awesome clips and only football could demand such a profound advertising campaign. Whether you're a casual fan, a new comer or an amateur tactician of the game you'll enjoy all three of these films and take away your own meaning. +JG:PG for TODOSLifestyle +May 2012

---
How big is the universe? A quick example will give you an idea of why we might never know. Imagine a big room with a single light bulb; this room is so big that when you turn on the light you have to wait years to see the far sections of the room. This might sound irrational, but the speed of light isn't fast enough to travel the immense distance and return to your eye in milliseconds. (Like we are accustomed to when we enter a room). That's the biggest problem when trying to explore our observable universe; it's just too big for us to know how it looks like presently. Our telescopes and space stations show us how galaxies and stars looked like billions of years ago. So when looking through our million dollar telescopes, we are actually looking back in time. Below is an image of the oldest known galaxy cluster discovered by the Chandra Space Telescope, one of NASA's four Great Observatories. It is 10 billion light years away. Or in other words, the image shows us how the galaxy cluster looked like 10 billion years ago. Who knows how it looks like now or even if it exists anymore, since the image is only 2 billion years after the big bang. Amazing isn't it?
C
lick here
to further discuss the possibility of finding an even older galaxy cluster. +David Torres for TODOSLifestyle. +May 2012
---
Tired of your smartphone?
We've
raved
about how easy to use and silky smooth the new Windows Phone 7.5 Mango operating system is. Now for a very limited time you will get a chance to try out a Windows Phone for free. From March 22 to March 29 (This has been extended by Microsoft until April 5th) Microsoft is holding their Smoked By Windows Phone Contest at the Microsoft Store where you challenge a Microsoft Employee to race to see if your smartphone can beat their Windows Phones to accomplish an everyday task. Now if you manage to beat them you win a Hunger Games Edition HP Folio 13 laptop. If you lose, which you probably will, you'll be eligible to recycle your smartphone and choose from one of the great selection of Windows Phone to take home for free. It's Microsoft's way of getting word out about their operating system and it's a win for you because you get to upgrade to the Windows Phone Mango device of your choice. It's almost too good to be true but all I can say that I was a benefactor of this contest when I traded in my shabby Android for a beautiful White Nokia Lumia 710. The operating system is intuitive and super convenient to learn and use everyday, arguably better than Apple's iOS or Google's Android. If you ask me what's the best feature of Windows Phone Mango? I'd say how fast and smooth it runs, it never crashes, social networks are deeply integrated into the phone so no more going into apps. And perhaps the best feature, in a sea of iPhone and Android, Windows Phone is definitely refreshing and uniquely different from the rest and in a dame good way. Still not convinced? Go see for yourself at one of the 12 Microsoft Stores before the 29th of March and surely you'll leave the Microsoft Store with a brand new free Windows Phone. To find the nearest Microsoft Store
Click here
. For more info click on the picture below, watch the video to see what the challenge in action (Note Microsoft has increased the prize from $100 USD to A special edition PC). Share with us if you go out and win your free Windows Phone below under the discussion question. +JG:PG for TODOSLifestyle +March 2012
---
The Sartorialist, the man behind the camera
His blog gets 70,000 readers a day and it's for a reason. His passion for fashion has transcended his photographs into a global "digital bench". If you've seen his blog you know what I'm talking about, if you haven't then you're in for a visual and inspirational treat. Imagine taking a walk out in the city with the mindset of seeking out someone who on the day is dressed in way that catches your eye and then asking them to stop what they're doing for you to take a quick picture. This is the perspective of Scott Schumann a.k.a. The Sartorialist. He comes from humble beginnings growing up in the Mid-West. He became a pioneer in fashion photography with his blog. His blog is familiar but take an interesting walk in the life of The Sartorialist. Watch the video to follow as he works, listen to what he thinks as he narrates his practice, See what he sees. +March 2012

---
Powered by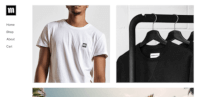 Create your own unique website with customizable templates.