Let's talk insight... ...you, me, TODOS.
---
Football is more than a game
Euro 2012 is around the corner, June 8th precisely. Host nation Poland will open up against Greece and a month long of football euphoria will follow. What's fascinating about football is the sport itself can be considered a lifestyle. It's a game simple enough for an open space yet great enough for the stars, followed by billions, and mastered by few. The game is a celebration of pride, heroes, and of course goals, there's no more climatic moment in sports. Since Euro 2008 Nike has created short films that capture different aspects of football's magic, all three films are unique in their own way. They feature some of the best players in the world. More importantly Nike manages to capture the great energy and the great multi-facted perspective of football. The first film was dubbed as "Take It To The Next Level" where you get to see in first person the rise of a football player at European giant Arsenal FC. It features scenes from Manchester United's Old Trafford Stadium, the Emirates, and the Camp Nou in Barcelona with appearances from Wayne Rooney, Cristiano Ronaldo, Ronaldinho, and others.


This second Nike film was released two years later for the 2010 World Cup in South Africa and it was called "Write The Future". This one explored the possible futures of footballers depending on their performance at the World Cup. Footballers are often under big pressure to perform at a high level in big matches and demonstrate that they are worth their often times expensive transfer fees. Fans often shout out "Stand up be counted" when their team needs a result, the players must show what their capable of and become legends or failures. In Spain there is an expression when translated goes like this "Finals are not to played, they are to be won". In this film you get a dramatic Hollywood style perspective of what adversity top players in the world play through. There's also appearances from Kobe Bryant, Roger Federer and Homer Simpson!


"My Time Is Now" is the third and latest film for Euro 2012. This one is about the next wave of players stepping up to become tomorrow's top players in the world. What makes this film special is actually hidden within "the Tunnels". You must go into the Nike Football Youtube Page and there you will find the interactive version of this film. What you will find are links within the film to discover different perspectives of football, from a Pep Guardiola tour of La Mesia (Barcelona's youth academy) to a Cristiano Ronaldo workout to a look into the Nike Barber Shop. It's an interesting way of watching this film as you click through the tunnels, Nike has also included a "Tunnel" for their sustainability program and more. These short films are brief but they show the many aspects of the beautiful game. In other words, it takes a huge budget from Nike to produce these awesome clips and only football could demand such a profound advertising campaign. Whether you're a casual fan, a new comer or an amateur tactician of the game you'll enjoy all three of these films and take away your own meaning. +JG:PG for TODOSLifestyle +May 2012

---
Powered by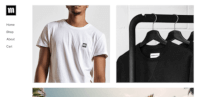 Create your own unique website with customizable templates.