Let's talk food... ...you, me, TODOS.
---
A post bought you by Katarzyna Okurowska. Kasia is a Polish expatriate currently residing in the UK and studying at the University of Sheffield for her Masters degree in Human Nutrition. She has kindly agreed to contribute to TODOSLifestyle by giving an insight to what Lewandowski and Co. will be eating to fuel themselves up before games or when coming to celebrate some positive results on pitch for the Poles.

When you visit Poland to watch international teams playing football it is worth trying some Polish cuisine too. If somebody asked me what is the most traditional Polish dish I would really struggle to give a short answer. We have hundreds of dishes and some of them are Polish regional specialities. And yes, it is true we eat a lot of cabbage and beetroot and wild mushrooms and potatoes because they grow best in the Polish climate, but Polish cuisine has much more than this to offer! Polish cuisine can be very fatty and heavy, but it does not have to be if you use less meat and your imagination.

I love bigos (Hunter's stew) which is a mixture of cabbage, wild mushrooms and a variety of meats. It can be made with fresh cabbage, or sour/pickled cabbage mixed with fresh. We usually eat it during cold winter days. It is rich in vitamin C, A, folic acid and proteins. I usually make a healthier version of bigos which is lower in fat when you replace pork and bacon with chicken or generally meat with mushrooms. It is delicious and healthy then.

The other dish I like is 'golabki' which is minced meat mixed with rice and spices, wrapped in cabbage leaves and served cooked with tomato sauce and mashed potatoes. Other popular dishes are: placki ziemniaczane (potato pancakes) with variety of sauces; pierogi (dumplings) – these can be plain or stuffed with wild mushrooms (my favourite) or cheese etc.; nalesniki (pancakes) stuffed with mushrooms, cheese or fruit; barszcz – lovely beetroot soup; zupa szczawiowa (sorrel soup); zupa ogorkowa (pickled gherkin soup), pyzy – round dumplings made of potatoes and stuffed with pate, meat, mushrooms or other ingredients. The list could go on and on though I don't believe this page would fit all traditional dishes.

It is worth mentioning that every region has its own variations of recipes and dishes that even I have never heard or tasted before although I have spent most of my life in Poland. We are very proud of our smoked sausages, ham and other meats which have a unique and strong flavour. You can also find a variety of colourful and incredibly tasty desserts like sekacz (tree cake because of its look), makowiec (poppy seed cake), sernik (polish cheese cake), szarlotka (apple cake), polish doughnuts, faworki (angel wings), pierniki, sliwki w czekoladzie (chocolate coated plums) and many more. And one more thing – do not forget to try some Polish vodka e.g. sliwowica, krupnik or zubrowka and drinking mead, but I have to warn you – it is really strong!!!!! +Kasia Oku for TODOSLifestyle +June 2012


Polish Dishes: (top left) Makowiec - poppy seed cake, (top right) Oscypek - smoked cheese made from sheep's milk, (bottom left) Bigos - Hunter's stew which traditionally served in fresh bread & (bottom right) Sekacz - tree branch cake


---
Peruvian cuisine is a unique, individual fusion of cooking techniques from around the world using local Peruvian ingredients. Peruvian cuisine influenced by immigration from Spain, Italy, China, West Africa and Japan, ranges from excellent sushi and simple 'Pollo a la Brasa' (roasted garlic chicken and chips) to 'Cuy Chactado' (fried guinea pig) and delicious 'Lomo Saltado' (Peruvian beef dish).

Peru is a country that holds not just a variety of ethnic mixes since times ranging from the Inca Empire, the Viceroyalty and the Republic, but also a climatic variety of 28 individual climates. The mixing of cultures and the variety of climates differ from city to city so geography, climate, culture and ethnic mix determine the variety of local cuisine.

The three traditional staples of Peruvian cuisine are corn, potatoes, and ajies (chili), there are over 8000 species of potato that are native to the Andes region of Peru.

Personally my favourite Peruvian dish is Ceviche, a raw seafood dish served along the coast. The dish is typically made from fresh raw fish marinated in citrus juices such as lemon or lime and spiced with chili peppers. Additional seasonings such as raw red onion, salt, coriander/cilantro, and pepper may also be added. Ceviche is usually accompanied by side dishes that complement its flavours such as sweet potato, lettuce, corn, or avocado.
Recipe
Ingredients
1 1/2 pounds of bass, diced
1/2 small red onion, halved and slivered
3/4 cup lime juice
1/2 teaspoon salt
1 habanero chile, seeded, halved, and thinly sliced (optional)
1 tablespoon ají amarillo sauce (optional)
1/2 cup cilantro leaves, chopped
1 sweet potato, boiled, peeled, and sliced
1 cob sweet corn, boiled and cut into 4 pieces
4 lettuce leaves
Preparation
1. Rinse diced fish and slivered red onion in cold water and dry thoroughly.
2. In a large bowl, combine fish, red onion, lime juice, salt, habanero (if using), and ají amarillo sauce (if using). Cover and refrigerate 20 minutes.
3. Just before serving, stir in cilantro. Divide between 4 bowls and serve with sweet potato, corn, and lettuce leaves on the side.
Peruvian Pantry: Ají amarillo. A yellow chile with a slightly sweet flavor and plenty of heat.
Note: Ceviche is a national dish of Peru. Originally created by fishermen as a way to eat part of their catch during long days at sea, ceviche uses the acid in lime juice to "cook" the fish.
Online Recipe Resources:
http://www.myrecipes.com/recipe/peruvian-ceviche-10000001194615/
http://www.theperuguide.com/gastronomy/peruvian_cuisine_recipes/ceviche.html
(Post contributed by Peter Richards, a Welsh expatriate currently residing in Lima, Peru. Even though he has just recently moved over, Peter has relished living in the South American country by taking on the local culture and cuisine)
+May 2012
---
Macaroni & Cheese is not Italian at all, it's indeed an American dish. How would Macaroni & Cheese taste if an Italian made it? Well here's a take on what it would look like. We're eager to try out Spanish Manchego cheese to the mix. You can also substitute the cheese on this recipe mixing in different kinds for who know what kind of deliciousness. You can go with Feta for a Greek Macaroni, the possibilities are intriguing. Discuss your choices of cheese in the discussion question below. This is the kind of recipe that can be served for a dinner to impress as long as you keep the cheese selection high-end. It's a dish that can easily become a conversation piece and score serious points in taste and sophistication. +April 2012

---
Spring is here, picnics are in the air
With Spring already here, let's get into the Spring diet. Fresh foods are always healthy, but Spring calls for eating them outside. Picnics are not only a chance to impress a date with your cooking savvy, but forces us to avoid foods that need to be reheated which tend to be heavy in fats and oils. Good picnic meals are all about salads, sandwiches, vegetables, and pasta. You can always add wine or sangria, both go well with lighter foods and keep the Spring feel to your meal. Here are a few easy and delicious recipes that you can try just click on the picture below and get outdoors, take advantage of a beautiful day for a nice picnic. +David Torres for TODOSLifestyle +March 2012

---
Upgrade your coffee: the French Press
Is coffee part of your lifestyle? We all love to go to Cafes for a cup of gourmet coffee, but how about at home? Making a great cup of coffee is truly is craft, but surprisingly it's rather easy, as any great barista you need the right tools and ingredients. Of course freshly grounded coffee makes a difference, it's a good start in the right direction, you can freshly ground your coffee at Trader Joes or other markets. More importantly to make a great coffee you need one of these (down below). It's called a French Press and it makes a truly exquisite cup of coffee every time. How does it work? Well it's rather simple, the process involves taking your grounds adding hot water, letting it rest for 4 minutes and then press the down on the plunger. Sure it's a little more work than the conventional drip coffee maker but the results are profound. Now you can enjoy a great cup of coffee at home every morning and also maybe even more importantly when you have company over you can offer up gourmet coffee that makes a lasting impression made off a French Press. Click below to watch "How to Use a French Press" and click on the bottom right to get your French Press Coffee Maker made by the best, Bodum. Not only does it make a blow away cup of coffee but it will add a sense sophistication and elegance to your counter top. +March 2012

---
Learn a delicious, aesthetic recipe from Italy
The Caprese Salad is a simple yet flavorful dish that is perfect for having company over. It is easy to make, refreshing, and last but not least it is healthy. Next time you make a salad with company over, prepare the Caprese Salad, your guest(s) will love it. The main ingredients are tomato, mozzarella cheese, fresh basil, and of course extra virgin olive oil. +February 2012

---
Powered by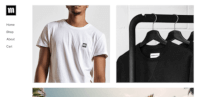 Create your own unique website with customizable templates.