Let's talk attire... ...you, me, TODOS.
---
Finally a nail polish that suits every nail type!

Having a manicure with that finishes off with beautiful shiny nails, is every girl's dream! Don't beautiful hands and especially glossy nails make all the difference? When I have polish on I tend to act more chic. I accessorize my outfits in different fashions and I seem to be gentler, I appear much more elegant! Over the years, this dream of having beautiful nail polish on my nails has been shattered by nail polish that chips off by first contact I make, normally when I pull out my purse to actually pay for the manicure I just received. Even at home, I am cautions by walking with my hands on the sides of my body for a while, and even then the polish manages to chip off, some way it just happens! Well, I have news for you, my girl friends. I have found a solution to long lasting beautiful nails. It is called Gelish and it is literally a dream come true. First off, it dries instantly, so no more walking around whilst holding our hands up in the air, for hours. Second, the colors are shiny, just as they appear in the magazines; the difference is the shine is actually present on your nails, instead of on the models hand in the magazine . Third and most importantly, we are students or we have busy jobs and we cannot afford the time to worry about nails every night. If you want to look professional, you cannot have the long acrylic nails. They just do not look professional and frankly, they do not even look healthy and clean if you have had them for a while. I work in health care, and I want to have a natural looking, yet fun nails at work. Also I play the piano, so I cannot have long nails. The beauty of Gelish is it looks good even on short nails. It cost a bit more than your usual manicure and you do have to make the trip down to your nail salon. But, getting your nails done every 21 days is fun, a little break we all deserve. In terms of costs, think about all the money and time you spend on re-applying your nail polish, especially with darker colors. Seriously ladies, chipped nail polish is not attractive. It just looks messy, as if you do not take care of yourself. It is time to get the nails you always dreamt of. Even in black and white, your nails will always shine! +Soodeh Nezam for TODOSLifestyle +June 2012
---
Powered by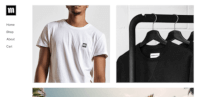 Create your own unique website with customizable templates.