Let's talk insight... ...you, me, TODOS.
---
Experience teaches the patterns of life
From mind to body to soul, how your character develops throughout life is a function of passion and commitment. The more time you spend doing one particular task or hobby, the better you become at it. This is because we humans learn very well from experience. Experience augments our instincts. Experience enhances our mental capacity. Experience teaches us the patterns of life. With experience, we have the power to envision, which is the first step to success. Hand in hand with passion and commitment, comes the aspect of multi-dimensionality. The more committed and multi-dimensional you are, the more worldly topics you can acknowledge, apprehend, and even implement. A multi-dimensional philosophy and lifestyle enables you to connect with as many, different people as types of lifestyle. Essentially, the more you know about the world and its inhabitants, the more possible it is to develop a character bound for success. +JG:PG for TODOSLifestyle +November 2012
---
Powered by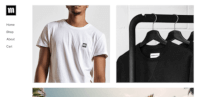 Create your own unique website with customizable templates.