Mad Men, a show for everyone

An accomplishment of culture, speaking 11 languages
Now you can personalize your IKEA products
IKEA Hackers is a fun "go to" site a lot like TODOSLifestyle.com but for personalizing IKEA products. You can read and share about modifications done to things from IKEA and they call them "hacks". Before you make your next shopping trip to IKEA make sure to go through this site to spark your ideas for home or office. Click on the picture below to be taken to IKEA Hackers.
Maintain values in the modern world

This year, upgrade your gear
This messenger bag has an uplifting sporty feel to it featuring the Nike Swoosh logo and vibrant blue lining. It's perfect for casual everyday use. The messenger bag by NIKE Sportswear is available at Asos (Click on the picture below). +January 2012
Try an old flavor from the Iberian Peninsula
You can only benefit from learning a new language

How many people do we share this world with? Maybe another 7 billion or so? It can only be to your benefit if you learn how to communicate with the other cultures of the world. Rosetta-Stone is the language learning tool to help you every step of the way. Try out the Rosetta-Stone interactive free demo online, where you can start with the basics and build towards conversational proficiency. No need for CDs, downloads, or installations. The program is fully online and works with your given skills. In no time, you' will be ready to order all the level sets. Suerte! (Click below for Rosetta-Stone homepage, free demo and ordering level sets.) +December 2011
Carry on with your work in style
Carry your work with a bag that looks as hip as your attire. A leather briefcase is durable and works well in a professional and casual setting. Take a look at the image below for the link to zara.com webpage. +November 2011
If it looks good, it'll taste better
This clear glass carafe by Ikea is rather beautiful. Start serving your water or iced coffee in one of these like in a European cafe. It's a good way to drink more water and do it in style. Surprisingly the water tastes amazingly refreshing when you pour it out one of these. Add a lemon slice or even blueberries for an extra touch of aesthetics and don't forget the ice. (Available at IKEA.com, click below). +November 2011
Powered by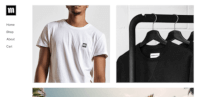 Create your own unique website with customizable templates.