+culture in spring 2012... ...you, me, TODOS.
---

Your wallet on a diet

Ditch your big wallet and that bulge it creates in your pocket for the amazing simplicity of a money clip wallet. Not only do they have a slim profile but now you can keep everything nicely organized and securely carry your cash and cards on the go. These leather money clips are attractive, simple, and come in three colors. So make the switch to a slim money clip, you'll be glad you did. (Click below to buy at Overstock).


---

Take a look at fashion in a different light

The Sartorialist is a fashion blog created by Scot Schuman. He started it by taking pictures of people that caught his eye because of their fashion. The site is actually a collection of photographs of smartly dressed folks, what's fascinating is that they're ordinary people going through their day yet Schuman manages capture them in an brilliant artistic style. The Sartorialist is great to look into different trends and styles of dressing. Take a look it could only benefit you if you dress more like the folks featured on The Sartorialist.


---

Mothering Day

Today we celebrate and dedicate this day to the most important person of our life, our Mother or to other cultures Μαμά, 妈妈, Maman and मां . The person who brought us to life and nurtured us, who was there when we took our first steps and told us off when we misbehaved. The day belongs to that person and we honor them for doing so in many ways possible. Handing over a gift and giving a hug is ample enough for the day though we must not forget that this day does not only celebrate the individual but the acts of fostering that have seen us through our life and will take care of us no matter what the future holds. So take the day to remind yourself of all acts and people that have looked after you, that have brought you up, that have treated you with care and love and have mothered you to become the individual you are today. We have our mother to thank for being alive and we have the act of mothering to thank for still being here. +Alex Kosmas for TODOSLifestyle

There is only one mirror in the world that hides my faults and accents my beauties, the reflection of me in the depth of my mother's eyes! happy mother's day. +Soodeh Nezam for TODOSLifestyle


---

Modernisme, a movement worth noting


Walking the streets of Barcelona, you can notice the unique movement that took place in the capital of Catalunya the previous century. In the heat of the summer and the tourists everywhere around, it might be difficult to see every one of the beautiful works of architecture in the city. We want to present you the 'Ruta del Modernisme.' The Route of Modernisme is a one day tour that will spot the most recommend monuments. Check out the link below for details on the route and its history (rutadelmodernisme.com). (contributed by IV)

---
Powered by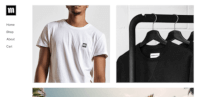 Create your own unique website with customizable templates.