+culture in fall 2012... ...you, me, TODOS.
---
Decor and cleanliness come together




A place mat can brighten up the dining table as well as help the clean up after dinner. Below, the TOGA place mat by IKEA, is made of palm leaf and folds neatly to put away. Check the link before for pricing and availability from IKEA.


---

Read about the path of suspense to romance


Nicholas Sparks shows in his New York Times Bestseller how we can hold on to the image of our dearest ones for the hardest of times and how that image slowly distorts, and reshapes as time and people pass by. The novel picks up quickly and gets rather difficult to place it down. A read for everyone this new year. Check out the link below (to buy at Barnes & Noble).


---

A table at your disposal, for any meal or snack


An hour lunch on any given weekday is the ideal situation. But most of us today might have no more than 20 minutes to prepare and eat breakfast or lunch, and we like to enjoy it with the jokes or the drama of our favorite TV shows. Having a snack table available for those quick meals while watching a TV episode or whenever you'd like the convenience of a the folding wood mini-table turns out to be great idea. Sometimes even, you can use it as an extra counter in the kitchen or the living room. Click on the snack table below from Bed Bath & Beyond.

---
Adopt the bottle with a stopper
These bottles with a stopper are used in Mediterranean countries and they're great for many reasons. Not only are they charming they're also useful for storing water or chilling coffee in the fridge. The tight fitting stopper provides a leak free seal so you can place the bottle on its side and even upside down, if you're into that. Lastly these bottles provide a stylish way of pouring water perfect for your fancy dinner night at home. (Available at IKEA)
---
We can all agree that life is short. In life we are expected to find at least one person to love and with only but a handful of years to do it. A wise man would say don't waste your time living someone else's life. Today we can are easily by distracted by economics, doubt and bitterness we easily lose track of what matters; the love of our friends, families and the special person you want to spend the most time with in your life. If you have found that person remember that your time is limited don't waste and don't forget to remind them how much you love them because at the end of the day unconditional love is what really matters. Money, fame and materialistic things cannot fulfill the feeling of being loved. And that's exactly why we'd like to you show you this video about love and the many languages of love. +JG:PG for TODOSLifestyle

---
Powered by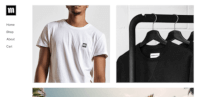 Create your own unique website with customizable templates.