+attire in winter 2013... ...you, me, TODOS.
---
Accommodate your belongings and help children across the world




This shoulder bag provides a neat home for your belongings on-the-go. It comes with a number of compatments and a stylish design that will upgrade your collection of purses/bags. Best of all, the shoulder bag is part of UNICEF's Inspired Gifts Collection, where proceeds are exchanged into life-saving and life-changing gifts for vulnerable children around the world. Check out the shoulder bag and many other Inspired Gifts at the UNICEF UK Shop. (click on image below)


---

Take a look at fashion from the UK

ASOS is a British online retailer based in London. They offer a variety of fashion labels such as Diesel, Ben Sherman, Lacoste to name a few and also offer their own private fashion label. We recommend the suits by ASOS which come well-tailored as only the British can do. At affordable prices, there's not many better places to buy a suit. They also offer free shipping and returns which makes ASOS one of the most convenient online retailers. In addition the online store is refreshingly interactive with videos and multiple pictures of the apparel. Check out some trendy British fashion at ASOS.com. (Click on the picture below to be linked to ASOS.com).


---

Wear a bold tie

Ties should make statements. Wearing a preppy stripped tie is great for many occasions be it for a graduation or on a dressy weekend day. Ties like these are smart and versatile. Every man should have one at his disposal (stripped tie by ASOS free shipping click on picture below).


---

Saying these V-neck sweaters are versatile is an understatement. They are warm, comfortable, simple yet elegant. They are made of Italian Merino Wool and come in a variety of colors so you can combine, mix, match, wear it with a shirt and tie or even wear it on it's on. You can dress it up and dress it down or use it as a layering piece. It is cut in a smart athletic fit and is warm enough to sport on a chilly evening out. (Click on the picture below to buy or pick a few at the shop by Express)


---

When I came across Mr Porter, a new site you should check out for men that features divine taste in fashion. The brand Paul Smith & Accessory stood out for their new 2012 collection . This grey knitted ribbed silk tie adds great texture in comparison to the boring work tie. This tie has two types of knit that amplifies the effect. To highlight the tie wear contrasting colors , like a classic white shirt and navy suit. Five things to know: 1. Grey knitted silk tie 2. Ribbed contrasting textures 3. 100% silk 4. Dry clean 5. Made in Italy. Click on it below to add to your style. +Esperanza Cid


---
Powered by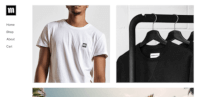 Create your own unique website with customizable templates.