Let's talk wellness... ...you, me, TODOS.
---
A pull-up a day goes a long way

Develop a strong back with the most convenient pull-up bar out there. It's called the Iron Gym Xtreme by Pro Fit. From wide pullups to work your lateral muscles to tight pulls to work your biceps, the Iron Gym is a way to develop your upper body every time you step into your room. The bar can also be placed on the floor to do wide pushups for your chest, dips for triceps, and against the door for abs. A great investment for yourself and your body. (Click on the picture for a link to buy the Iron Gym from Target.com). +October 2011
Powered by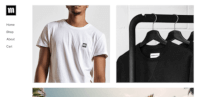 Create your own unique website with customizable templates.