Let's talk technology... ...you, me, TODOS.
---
A great OS you've never heard of
This is Windows Phone 7.5 codenamed Mango. It's a mobile phone operating system developed by Microsoft and it's very well made and extremely polished. What you get is a smooth, sleek, and seamless phone experience. Mango or 7.5 is the second and newest version of the OS and it's a phenomenal successor to the original Windows Phone 7. It looks nothing like iOS, Android OS, or Blackberry. Windows Phone features a beautiful and intuitive user interface that displays live tiles instead of icons which update regularly to keep you up with what matters most (learn a bit more about Windows Phone Mango and see it in action in the video). +October 2011

---
Powered by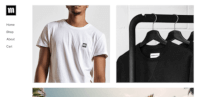 Create your own unique website with customizable templates.