Let's talk wellness... ...you, me, TODOS.
---
A fun & healthy grocery shopping experience
Trader Joe's is not your ordinary grocery store. They are a grocer that carries unique and sometimes quirky items that you simply cannot find anywhere else. They regularly come out with new exciting items to keep things interesting every time you walk in. In addition Trader Joe's also carries a variety of organic products. You cannot buy everything you need at Trader Joe's but you can surely enjoy from a great selection of quality foods from all over the globe. The place just has a certain charm about it that everyone raves about, from it's small size to it's cheerful employees. Trader Joe's is a great place to buy groceries at competitive prices and for a healthy lifestyle (click on the picture above for the store locations). +November 2011
Powered by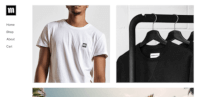 Create your own unique website with customizable templates.